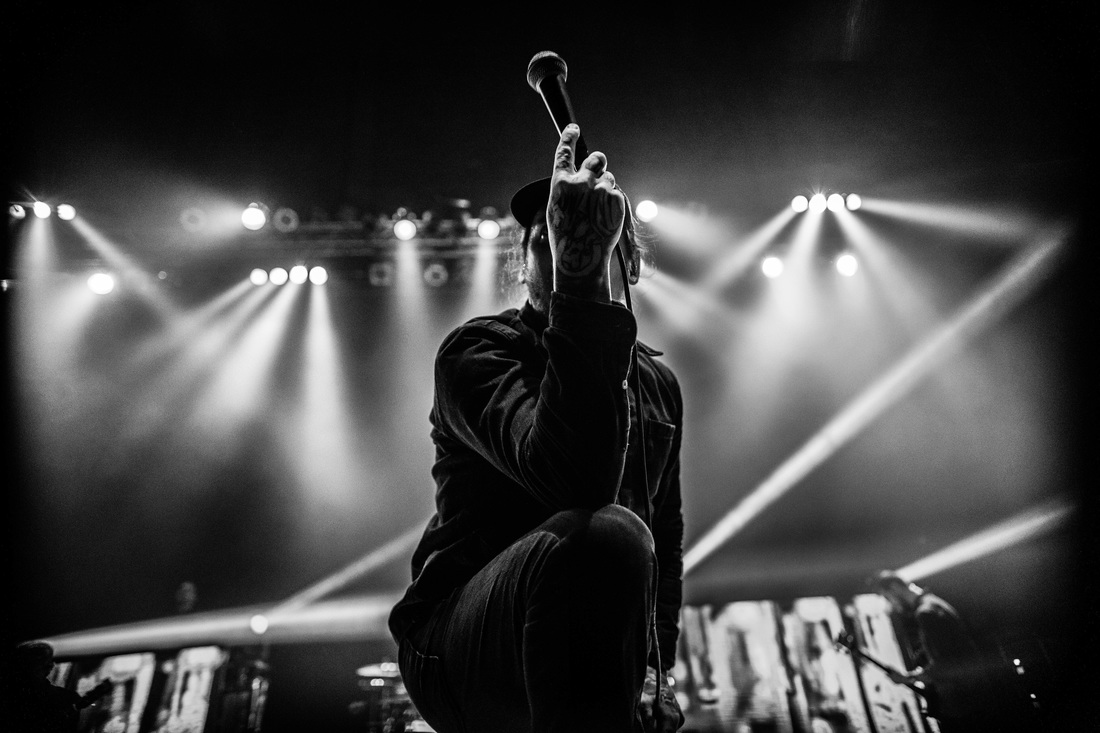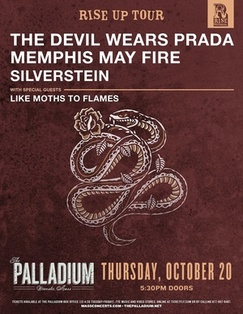 Memphis May Fire/ The Devil Wears Prada/Silverstein/Like Moths To Flames – Palladium, Worcester, MA 10/16
By Rickelle Tavares
As many times as I've seen them live, they never cease to amaze me and on the 20th of October each band blew my expectations out of the water. The Rise Up tour was stacked: Like Moths to Flames, Silverstein, The Devil Wears Prada, and Memphis May Fire. If you don't know any of these bands then I'm not sure if you live under a rock or you just enjoy missing out on some of the greatest bands, either way I was beyond stoked. First up was Like Moths to Flames, they'd recently done a headliner at the palladium and it was quite the show. The Palladium was already packed before they started and as soon as the intro started everybody in the room went from calm to wild. They opened with "Bury Your Pain", it starts off calm and then jumps into the raw heavy sound only LMTF can create. Even all the photographers in the photo pit were nodding their heads and shooting, it's hard to not move to such a good song. They really know how to work a stage and get the crowd moving, for the concert to have just started and there already is a massive pit says a lot. They set the tone for what to expect for the night and it was nothing short of a good time, they ended their set with "You Won't Be Missed". It was quite wild watching people from the back of the venue to the front row scream the words along and a great way to send them off.
Headed up next was Silverstein, the band of all ages. I say that because there wasn't a specific age group targeted with its fan base, I saw ages 10 to probably 40 fighting their way to the front when they started. Things went into full swing as they opened with "Sacrifice" which is one of their really popular songs that everyone has to know! I cannot express how simple things like when Shane (between chorus parts) would just look out and smile at the crowd, those things really make a show in my opinion. Knowing that the artist you enjoy and listen to is enjoying you back, it's a connection and Silverstein is great at it. The temperature in the rooms started slowly rising up from everyone jumping and thrashing about, and then those few cords from "My Heroine" started. I don't think I can put into words how wild things got, you could see grown men in the pit screaming and shrieking every word in perfect unison, grabbing guys next to them and singing in their face. It was glorious and it was definitely a memorable first time for seeing them!
Now The Devil Wears Prada was up next and I can assure you I was far beyond excited, I've been following them for years and I was finally getting to shoot them. They just came out with a new album that is literally earth shattering and I couldn't wait for the performance! I will confess it was extremely hard to shoot for the first three songs, I wanted to go in the pit and scream along with everyone. The giant bright screens were showing faint illumination of the entire band moving spot to spot on stage and it was mesmerizing, everything flowed together effortlessly. Then they started to play songs off the Space Ep specifically "Asteroid" which has a heavy beginning and goes into an almost chant chorus. It was magnificent watching everyone around me sing the words all together with excitement, you could see it in their eyes! Out of all the shows I've seen The Devil Wears Prada play I've never felt such a gripping enticing feeling, they really outdid themselves for this tour.
Now this was a co headlining tour with The Devil Wears Prada and Memphis May Fire, so MMF ended up closing for the night. The first time I actually got to see them was on the exact same stage years ago and I felt the same apprehension and excitement as I did that day. If you're familiar with Memphis May Fire you know they've been around for a while and they continue to put out hit after hit, while remaining true to themselves as artists. Now on to the show they came out full blast with their new song "Carry On" which was more incredible live. It was released briefly before the tour and it packs the punch only MMF can deliver, heavy but with meaningful lyrics. It was really refreshing to see that they still had the fire they did from the first time I saw them. They started playing a song that I myself could not resist screaming to, "Alive in the Lights". Once that song started everything in the venue went full scale out of control. The pit widened, crowd surfers seemed endless and everyone was screaming the lyrics along especially "THIS IS MY LIFE! I COME ALIVE IN THE LIGHTS!" As abruptly as the chaos had started it simmered down for "Miles Away" which is one of every MMF's fans favorites, its raw and emotional about the toll touring takes on Matty's relationship and completely touching. The entire set beginning to end was execution flawlessly and I have not one complaint. The entire line collectively was nothing short of perfect, every fan of every band supported each act and it was an incredible night. If you still have a chance to catch this tour make sure you get a ticket!
Official MMF Site
Official TDWP Site
Official Silverstein Site
Official LMTF Site
---