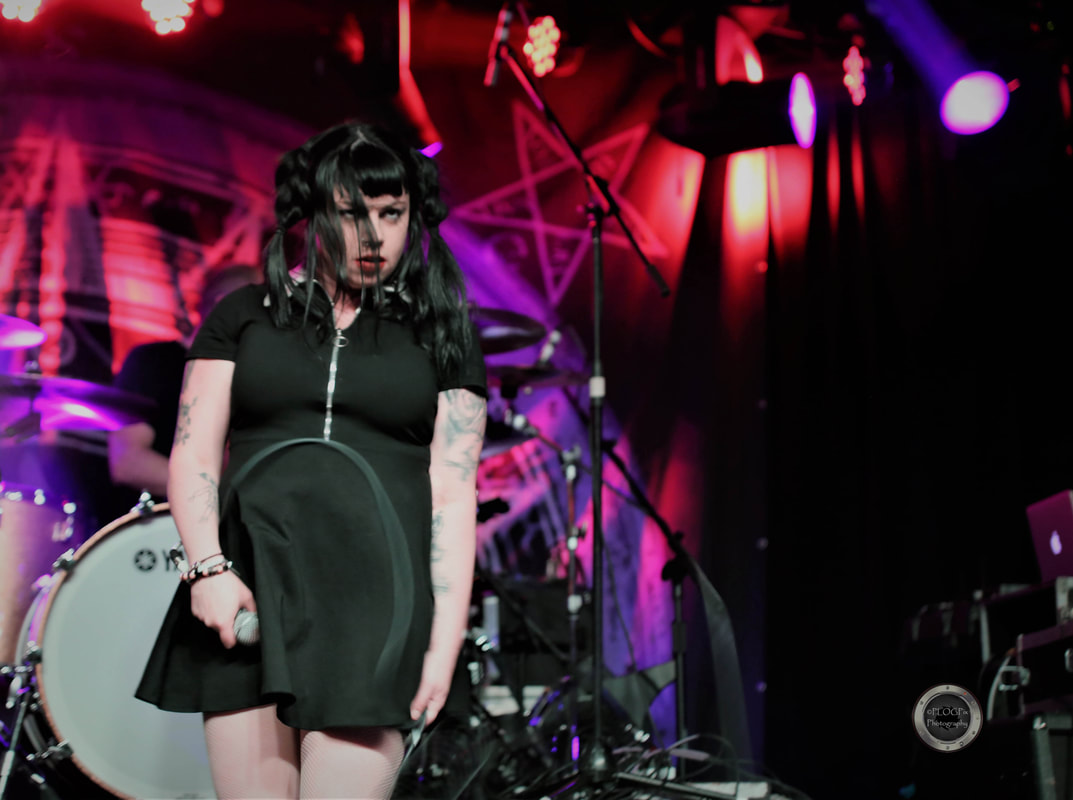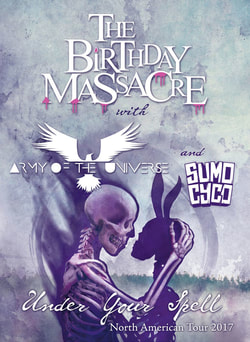 The Birthday Massacre/Army Of The Universe/Sumo Cyco – Heaven @ The Masquerade, Atlanta, GA 6/17
By: Leslie Elder Rogers
The Birthday Massacre is a Canadian Band who formed almost 20 years ago in 1999. They've had a long history of amazing albums and their newest addition,
Under Your Spell
dropped in June. With a horror rock/metal appearance and vibe, this gal…and guys…are a quirky mixture of fun and energy all the way around. The lineup consists of the beautiful and mystifying, Chibi, rhythm guitarist, Rainbow, lead guitarist, Falcore, Nate Manor on bass, Rhim on drums, and keyboardist, Owen. When they are on stage, it is a complete variety of talent and watching them as they facilitate the show is a remarkable sight.
Arriving well into the concert tonight, I made it in time to see the a few songs from Sumo Cyco before they headed off stage. Wow, I fell in love with this band and wish I'd been there to catch their entire set. Leave it to traveling to Atlanta to throw a wrench in that. Yet another Canadian, female fronted band that kicks ass on stage. They seemed to be the perfect addition to this group of bands tonight. Skye bounced around on and off stage without missing a note, like she's been doing this for many years. She radiates ambition.
Army of the Universe was next. I was intrigued by them but will have to hear more of their music outside of a live performance to form my real opinion. They formed in 2008 in Milan, Italy and they bring with them a techno-rock vibe which is probably why I wasn't as excited as I wanted to be. Though they truly have outstanding energy on stage and charisma surrounds vocalist, Lord K, but these title type names just aren't my cup of tea. I watched and listened and very much appreciate their obvious talent but throughout their entire set, I was anxiously and impatiently awaiting the headliner.
As The Birthday Massacre set foot on stage, I watched the crowd and the many attendees that came dressed to impress in their own version of The Birthday Massacre attire. The faces of adoration were abundant as Chibi stared into the crowd with a hypnotizing glare and then…the vocals…damn, the vocals on this woman. I was about to learn just why this band has such a following. Men and women alike in the audience were raging fiercely with every lyric and every note as they sang each song and held onto every word. Coming into tonight, I didn't know a lot about the band personally, but I did know that what they do is brilliantly conveyed by their instrumentation and lyrical content. The stage lighting helped assist in their horror façade, making their entire performance true to the genres' they represent. There were so many moments from start to finish where they shocked me with their performance and their ability to keep the crowd pumped up with their effortless presentation and raw passion for their art. It was crazy good. The whole show was full of life, enthusiastic faces in the crowd, full of energy, and full of that extra oomph…that one thing that tops off a show. Their ability to present the music they love in the manner they did is what makes a great show even better. They had a hell of a set list tonight that included almost equally, songs from each of their seven albums. Many of their most popular songs and also songs that we are all just getting to know from the new album release were performed flawlessly. The crowd favorites were "Happy Birthday", "Video Kid", "Pins and Needles" among many more but these three songs seemed to take on a whole new meaning for the fans when the band played them. These songs seemed anthem-like in nature as Chibi belted them from the pit of her soul and the crowd bounced joyfully to the sound. She is such a free spirit that just watching her and the band play off of each other on stage makes the entire set worth being present for. I have listed the full set list below including the three song encore which was just as brilliantly rendered as the earlier part of the show. If you are able to catch one of their shows near you, I highly recommend it. There will be no disappointment.
Set list and album each song is released on is as follows:
One – Under Your Spell
Red Stars – Walking With Strangers
Looking Glass – Walking With Strangers
All of Nothing – Under Your Spell
Counterpane – Under Your Spell
Destroyer – Superstition
Divide – Superstition
Superstition – Superstition
Lover's End – Violet
Happy Birthday – Nothing & Nowhere
Video Kid – Nothing & Nowhere
Under Your Spell – Under Your Spell
No Tomorrow – Under Your Spell
Leaving Tonight – Hide and Seek
Alibis – Hide and Seek
Pins and Needles – Pins and Needles
In the Dark – Pins and Needles
ENCORE:
Blue – Violet
I Think We're Alone Now – I Think We're Alone Now
Broken – Nothing & Nowhere
http://thebirthdaymassacre.com/
https://www.facebook.com/TheBirthdayMassacre/
https://twitter.com/tbmassacre
https://www.instagram.com/thebirthdaymassacre/
https://www.youtube.com/user/TBMOfficial
https://www.metropolis-records.com/product/11516/under-your-spell
---